Beishanlong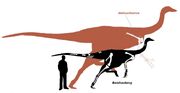 Beishanlong is a genus of giant ornithomimosaurian dinosaur from the Early Cretaceous of China. The type species is B. grandis, described in 2009 by a team of Chinese and American paleontologists. Beishanlong lived during the Aptian to Albian stages, around 100 to 125 million years ago. Three fossils were found in northwestern China, in the province of Gansu. Beishanlong was closely related to fellow ornithomimosaurian Harpymimus; together they formed a clade that split off from the main ornithomimosaurian branch just below Garudimimus.[1]
References
Edit
External links
Edit

Community content is available under
CC-BY-SA
unless otherwise noted.