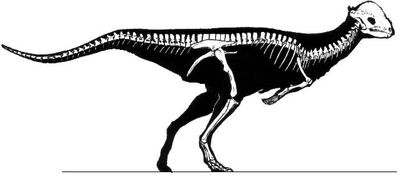 Pachycephalosaurus is a pachycephalosaurid. The type species, P. wyomingensis, is the only known species. It lived during the Late Cretaceous Period (Maastrichtian stage) of what is now North America. Remains have been excavated in Montana, South Dakota, and Wyoming. It was an herbivorous or omnivorous creature which is primarily known from a single skull and a few extremely thick skull roofs, though more complete fossils have been found in recent years. Pachycephalosaurus was one of the last non-avian dinosaurs before the Cretaceous–Paleogene extinction event. Another dinosaur, Tylosteus of western North America, has been synonymized with Pachycephalosaurus.
Like other pachycephalosaurids, Pachycephalosaurus was a bipedal omnivore with an extremely thick skull roof. It possessed long hindlimbs and small forelimbs. Pachycephalosaurus is the largest known pachycephalosaur.
The thick skull domes of Pachycephalosaurus and related genera gave rise to the hypothesis that pachycephalosaurs used their skulls in intraspecific combat. This hypothesis has been disputed in recent years.
Description
[
]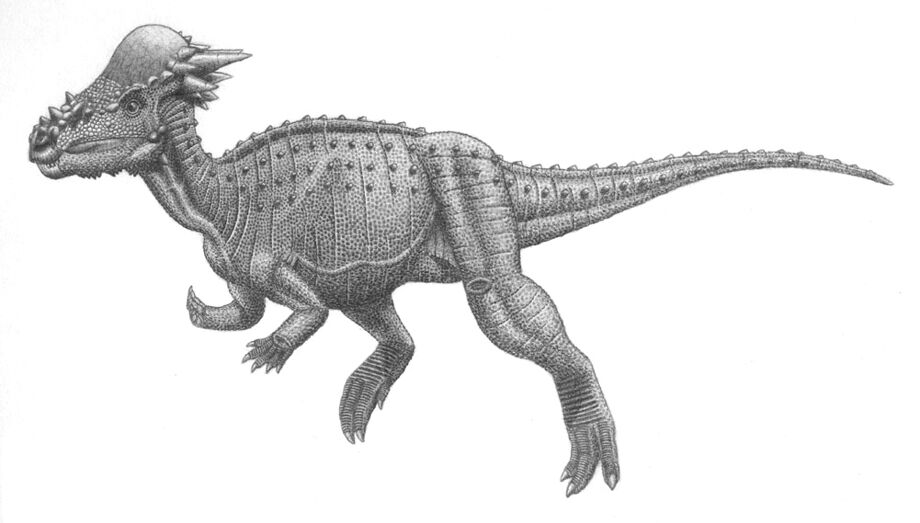 The anatomy of Pachycephalosaurus is poorly known, as only skull remains have been described.[1] Pachycephalosaurus is famous for having a large, bony dome atop its skull, up to 25 cm (10 in) thick, which safely cushioned its tiny brain. The dome's rear aspect was edged with bony knobs and short bony spikes projected upwards from the snout. The spikes were probably blunt, not sharp.[2]
The skull was short, and possessed large, rounded eye sockets that faced forward, suggesting that the animal had good vision and was capable of binocular vision. Pachycephalosaurus had a small muzzle which ended in a pointed beak. The teeth were tiny, with leaf-shaped crowns. The head was supported by an "S"- or "U"-shaped neck.[2]
Pachycephalosaurus was probably bipedal and was the largest of the pachycephalosaurid (bone-headed) dinosaurs. It has been estimated that Pachycephalosaurus was around 4.5 metres (15 ft) long and weighed 450 kilograms (990 lb).[3] Based on other pachycephalosaurids, it probably had a fairly short, thick neck, short fore limbs, a bulky body, long hind legs and a heavy tail, which was likely held rigid by ossified tendons.
Classifications and systematics
[
]
Pachycephalosaurus gives its name to the Pachycephalosauria, a clade of herbivorous ornithischian ("bird hipped") dinosaurs which lived during the Late Cretaceous Period in North America and Asia. Despite their bipedal stance, they were likely more closely related to the ceratopsians than the ornithopods.[5]
Pachycephalosaurus is the most famous member of the Pachycephalosauria (though not the best-preserved member). The clade also includes Stenopelix, Wannanosaurus, Goyocephale, Stegoceras, Homalocephale, Tylocephale, Sphaerotholus and Prenocephale. Within the tribe Pachycephalosaurini, Pachycephalosaurus is most closely related to Dracorex and Stygimoloch, although these may be juvenile forms of Pachycephalosaurus.
Below is a cladogram modified from Evans et al., 2013.
 Pachycephalosauria 





 

Pachycephalosauridae

 







































Amtocephale gobiensis























Pachycephalosaurus wyomingensis












Sphaerotholus buchholtzae






Sphaerotholus goodwini

































Discovery and history
[
]